GP & Brownswood take over Belgium
October 21, 2010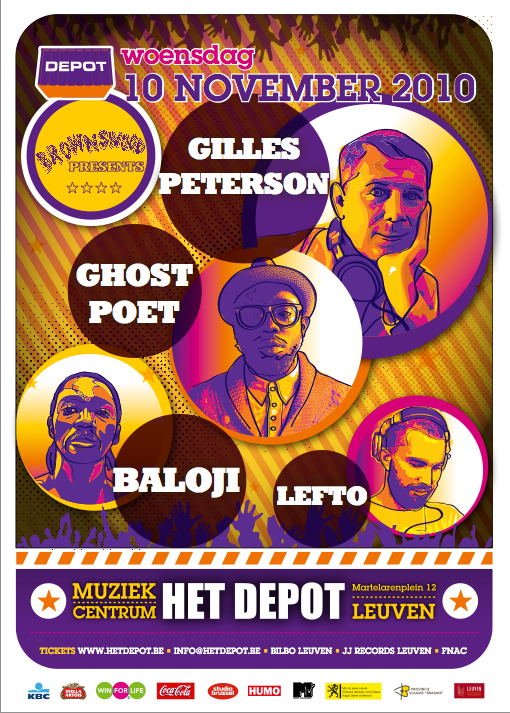 Every now and then the beautiful friends/organisers from this great venue called Het Depot in Leuven, Belgium organise a Brownswood Night.  The last one was back in 2009, with Jazzanova's Alex Barck, the Nicola Conte Jazz Combo, Gilles & myself.
On November 10 2010, another Brownswood Night will take place at Het Depot.  A perfect occasion to witness Brownswood's new addition, Ghostpoet.  An artist we must follow as he might find his way to the top one day.  Another great artist on stage that night will be Baloji.  From Liège in Belgium, he represents a generation of conscious rappers and is an example for lots of Belgian rappers with Congolese origins.  On stage he will be joined by l'Orchestre de la Katuba, backed with a band playing the traditional sounds of Congo, it's one of the best local performances I've seen and I'm happy to see he does it well internationally.  I wrote a page on him in the Worldwide Festival magazine last summer.
You can't have  a Brownswood Night without Gilles Peterson behind the decks, he will give you the essential treats, from past to present and future, no one does it like GP!
I'll be there, spinning a couple records and check The Peterson's record bag; have a chat with Ghostpoet and enjoying the night with a glass of ….. water!
I hope to see you there, in Leuven Belgium on the 10th of November.  Here are some links for you:
LeFtOoO