Are you ready for the BIG CHILL???
July 22, 2009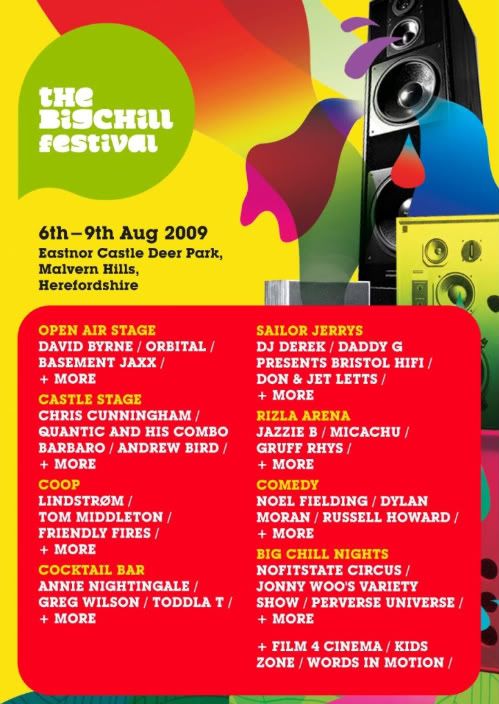 One of the highlights of the summer festival season is on the horizon and it's looking mighty fine from where I'm standing. Orbital, Basement Jaxx, Spiritualized, Friendly Fires, Lindstrom, Alice Russell, Bonobo, Hexstatic, Dub Syndicate, Hypnotic Brass Ensemble, Mulatu & The Heliocentrics, Telepathe, Erik Truffaz, Jazzsteppa, Quantic & His Combo Barbaro, The Field… DAMN SON! And that's just a handful of the liver-than-live acts at Big Chill this year.
Among those taking care of DJ business will be: Norman Jay MBE, Metro Area, Greg Wilson, Tom Middleton, Congo Natty, Mr Scruff, Kode9 & SpaceApe, The Heatwave, Tim Goldsworthy, Paul White & Bullion, DJ Format, Ramadanman, Tomb Crew, The Nextmen, Bass Clef, Floating Points, MJ Cole and perhaps the man most-likely-to-smash-it-at-a-festival… Toddla T.
The Steel City's digi-dancehall warrior has been slaying dancefloors for the past year as his reputation has expanded into Radio 1′s consciousness. Cue the haters moaning about fidgit house… SHUT YOUR NOISE! As far as I can make out, Toddla has always spun for the ladies first and foremost, so that means low on the man-music and high on the UK Funky, garage classics, dancehall retweaks and broken jams. Just check his forthcoming FabricLive CD…
01. Philly – Love Action – Philly
02. Duffy – Stepping Stone (Cavemen Remix) – Universal/Polydor
03. Monkey Steak – Tigris Riddim – Steak House
04. Backyard Dog – Baddest Ruffest (Pipes & Slippers Mix) – WMI
05. Toddla T ft Mr Versatile – Fill Up Mi Portion RMX ft Afrikan Boy & Batty Rymer – 1965/Sony
06. Stone ft Roots Manuva – Amen – Stone Riddims
07. Toddla T ft Trigganom Vs Clipz – Boom DJ From The Bristol City – 1965/Sony
>>> Toddla T – Boom DJ From The Steel City – 1965/Sony
>>> Clipz – Offline VIP – Audio Zoo
08. Toddla T ft Serocee – Manbadman (Andy George Refix) – 1965/Sony
09. Toddla T ft Serocee – Shake It (Martelo Megashake) – 1965/Sony
>>> Fish Go Deep – Cure And The Cause – Defected
>>> Geeneus & Zinc – Emotions [Geeneus Mix] – Rinse/Ammunition
>>> La Silva – Funky Flex – Lil Silva
10. Shake Aletti – The Way He Does (Toddla T RMX ft Serocee) – Shake Aletti
11. Bart B More & Diplo Vs Bashy – Millionaire Bingo – Bashy
>>> Bashy – Who Wants To Be A Millionaire – Bashy
>>> Bingo Players – Get Up [Diplo Mix] – Secure
12. Drums Of Death – Lonely Days (DOD's Glasgow to Sheffield Nightbus Version) – Greco/Roman
13. Alex Mills – Beyond Words (Wittyboy Remix) – Roll Deep
14. Skream – Toddla T Special – Tempa/Ammunition
15. Toddla T ft Tinchy Stryder & Mr Versatile Vs Untold – Anaconda Safe
>>> Toddla T – Safe – 1965/Sony
>>> Untold – Anaconda VIP – Hessle Audio
16. Busy Signal Vs Pulse X – Tic Toc (J Needles Driver Blend)
>>> Busy Signal – TicToc – VP Music
>>> Youngsta – Pulse X – DDJS Productions
17. Sticky Ft Lady Chann – Sticky Situation – Unity
18. Toddla T & Oneman Ft Mr Versatile – Right Leg Shuffle – Girls Music
19. Oris Jay – 4 Real – Oris Jay
20. Toddla T Ft. Benjiman Zephinia & Joe Godard – Rebel (Skream Remix) – 1965/Sony
21. Deadmau5 – I Remember (Caspa Remix) – Virgin
HEAVY – told you so.
www.bigchill.net
www.fabriclondon.com