Summer Bubblers – FREE Mixtapes!!
June 16, 2009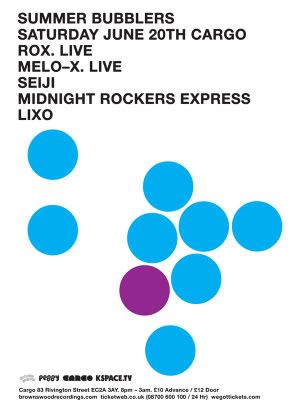 The first in a string of Brownswood-affiliated summer jams jumps off on Saturday night at Cargo, and in keeping with the Summer Bubblers philosophy of showcasing the freshest talent inhabiting the left-of-centre regions in the world of contemporary pop, soul and hip hop, we're casting our net towards NYC and the vocal talents of rapper Melo-X in addition to the deep crates of the Midnight Rockers Express crew. OG bruk magician Seiji, soulstress extraordinaire Rox, and Get Me! founder Lixo complete the heavyweight bill.
ROX (LIVE / Rough Trade) www.myspace.com/roxmusik
MELO-X (LIVE) www.myspace.com/meloxtra
SEIJI www.myspace.com/seijimusic
MIDNIGHT ROCKERS EXPRESS http://midnightrockersexpress.blogspot.com
LIXO www.myspace.com/lixo
Saturday 20th June
Cargo, 83 Rivington St, London, EC2A 3AY
8pm-3am // £10 adv, £6 b4 9pm, £12 after
NO DRESS CODE
Tubes: Old St / Liverpool St.
Buses: 26 / 35 / 47 / 55 / 149 / 242 / 243
SUMMER BUBBLERS MIXES BY MIDNIGHT ROCKERS EXPRESS
Yep – mixes plural. One for BBQs, road trips or late nights… Q-Tip, Stevie Wonder, Lee Fields, Jigga, Blue Boy, Aretha Franklin. Sliced and diced with considerable aplomb by DJ GetLive. Check it HERE
Part 2 shimmies from the golden age of 80′s pop straight into deliciously deep grooves of house, Afro-Brazil and disco. Perfect after-hours vibes. Head over HERE to bag it.